Many of the exhibitors will be releasing or demonstrating new products at the Expo.
Following is just a sample of what you will see.
ORITECH Stand B21

Oritech launches new range of cleaning technology from PBT Worksnew range of SMT equipment solutions
Oritech is pleased to announce that it has teamed-up with PBT Works to bring their range of SMT cleaning and printing solutions to the Australian market. PBT Works ranks among the world's most known manufacturers of cleaning and printing technology for electronic assemblies and tooling, with their machines being used in thousands of manufacturing facilities world-wide.
Cleaning
PBT Works cleaning solutions make it extremely easy to clean PCBA's, DCB's, Stencils, Squeegees, Pumprints and other Mechanical assemblies. They offer single and double frame options, multi-level basket options as well as multiple chamber options.


Printing
PBT Works range of Stencil Printers allows for the printing of standard 23 to 29-inch stencils, as well as large format jobs. They offer full lifetime reliability, smart modular design, are suitable for heavy duty applications, can print solder paste, glue and ink, provide high dimensional stability and rigid framework, and come with advanced pre-loaded mechanisms for precise alignment.

Oritech partners with Nordson Select to bring new range of selective soldering systems to Australian market

Oritech is pleased to announce it has partnered with Nordson Corporation to bring the Nordson Select range of liquid dispensers to the Australian market. Nordson manufacture differentiated products used for dispensing adhesives, coatings, sealants, biomaterials and other materials used in fluid management, test and inspection, and for UV curing and plasma surface treatment.
Their range of Nordson SELECT selective soldering systems has been of particular interest in Australia, with several Australian manufacturers already installing Nordson machines in their facilities. Recognized for our innovative products, they offer a full spectrum of solutions including standalone, in-line and multi-station high-volume soldering systems.
The Nordson SELECT range includes the Cerno Series, Integra Series and the Novo Series. Each selective soldering solution caters for different requirements from low to high volume.
Oritech brings new Interflux range of Super Low Melting Point Alloys (LMPA) to Australian market
Oritech is pleased to announce it has been chosen as the exclusive distributor of Interflux® Electronics' new range of Super Low Melting Point Alloys. Known as LMPA-Q™, it is an enhanced LMPA™ allowing users to use soldering temperatures that are considerably lower than for traditional lead-free Sn(Ag)Cu (SAC) alloys and other LMPA's on the market. It can be used in wave, selective and reflow soldering processes and reduces soldering temperatures by up to 70 degrees Celsius.
LMPA-Q™ is available in solder wire, paste and bar. You can see the range for yourself on the Oritech stand at Electronex.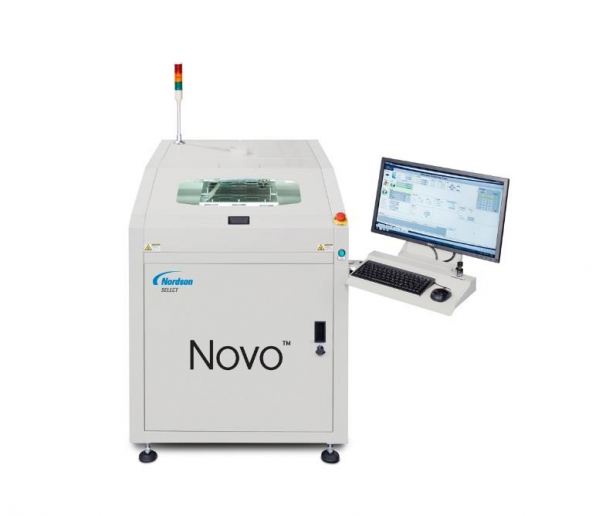 Oritech brings new Interflux range of Super Low Melting Point Alloys (LMPA) to Australian market
Oritech is pleased to announce it has been chosen as the exclusive distributor of Interflux® Electronics' new range of Super Low Melting Point Alloys. Known as LMPA-Q™, it is an enhanced LMPA™ allowing users to use soldering temperatures that are considerably lower than for traditional lead-free Sn(Ag)Cu (SAC) alloys and other LMPA's on the market. It can be used in wave, selective and reflow soldering processes and reduces soldering temperatures by up to 70 degrees Celsius.
LMPA-Q™ is available in solder wire, paste and bar. You can see the range for yourself on the Oritech stand at Electronex.
10% off Ash Digital Inspection Magnifiers and Microscopes
Ash Technologies designs and delivers compelling digital vision and measurement solutions, designed and executed with beauty and simplicity.
Their range of products have been designed to aid with inspection and rework tasks undertaken by electronic technicians. All their products provide over 200mm of focal length / working range and include:
• The Omni Digital Microscope: Delivers superb full HD live video image quality at 60 frames per second. Offers a powerful suite of measurement features including full image capture. And there's no need for an additional PC!
• The Inspex HD 1080p Digital Microscope: Accurate & detailed inspection with dynamic range of magnification levels and integrated LED illumination. Its versatile design makes it compatible with a wide range of mounting options. Again, there's no need for an additional PC!
• The Ion 4.3" Handheld Digital Microscope: The Ion is comfortable to hold and highly intuitive to use as the product has been designed to replicate the look and feel of an optical magnifier. Its portability is great for field work and combined with measurement grids and image capture, greatly enhance the capability and efficiency of decision making for inspection operators and technicians.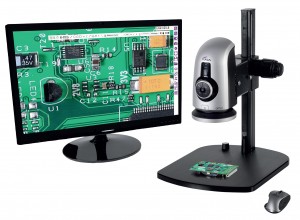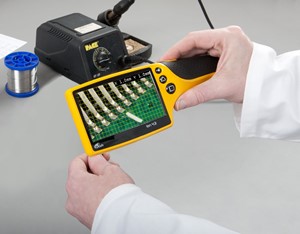 10% off JBC Soldering Solutions
More than 80 years of experience have placed JBC at the technological forefront of tools for soldering and rework operations in electronics. Innovation, efficiency and reliability are the key features of a wide range of products which have been designed to satisfy the most demanding requirements of professionals.
Oritech, one of Australia's leading suppliers of JBC products, is offering 10% off popular JBC products at Electronex 2018. Applicable until the end of September 2018 and only available to attendees of Electronex, products include soldering and de-soldering stations, hot air rework, portable soldering irons, tips & spares and accessories.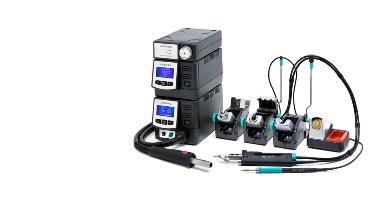 Oritech launches new online store

Oritech is pleased to announce the recent launch of its new website developed as a one-stop-shop for the electronics industry. As a specialist supplier of consumables, tools and equipment for electronics manufacturers, technicians and related professionals, Oritech's new website provides access to the latest products and information for tool kits and cases, soldering equipment, test and measurement tools, electronics consumables, ESD control, SMT equipment and a lot more.
Their new website provides live up-to-date information on stock availability, lets you review your order history, makes it easy to place re-orders, allows you to create wish-lists & flag favourite products, and allows you to track your orders online.
Along with a host of other improvements including updated product information and images, access to safety data sheets and streamlined checkout process, the new Oritech website truly is your one-stop-shop for all your consumables, tools and equipment.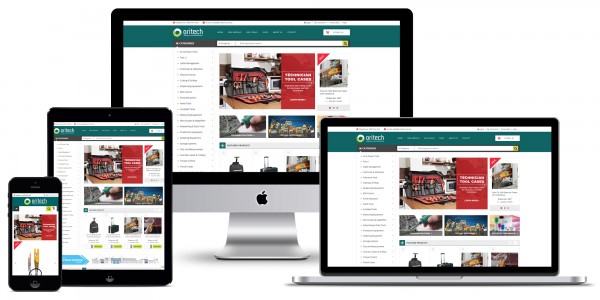 GPC ELECTRONICS Stand B33

GPC Electronics is one of the largest electronics contract manufacturers in Australasia.
GPC Electronics has integrated processes with new equipment to create an Industry 4.0 operation.
In a competitive market, customers are expecting fast turn-around, high yields and attractive pricing.
GPC Electronics has addressed this by implementing Industry 4.0, creating an integrated manufacturing environment. This was done by using barcoded PCAs for the SAP system to link new equipment (AOI machines, SMT machines, Wave Soldering machines, Automatic Radial Insertion machines), to displays in the factory, so that operators can monitor and improve processes.
Implementing Industry 4.0 has:

• Enhanced real time process visibility to operators, process engineers and management.
• Improved speed and efficiency, throughput and responsiveness to changes in customer demand
• Improved Yields and Quality to industry leading levels, with less rework and failures
• Provided traceability of processes for warranty, supply chain information and fault analysis.

GPC Electronics is a reliable supplier to global companies, with robust systems and processes.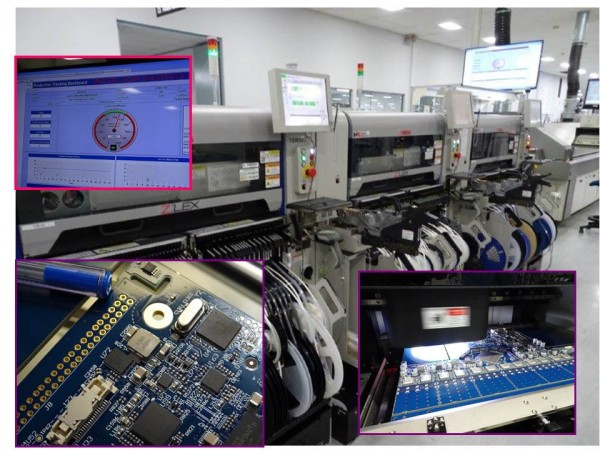 EMONA INSTRUMENTS Stand B1
Emona Instruments is displaying sample prints of 3D printed electronics from the world's leading manufacturers of 3D printed electronics solutions.

Emona is bringing high-technology electronics 3D printing solutions to Australian industry for electronics R & D, manufacturing, research and education with the printing of multi-layer PCBs, as well as resistors, capacitors, antennas, sensors and thin film transistors.
Emona's multi-layer PCB 3D printing solution is provided by Nano-Dimension's DragonFly 2020 Pro. This system brings together an extremely precise inkjet deposition printer, high performance silver nano-particle conductive and dielectric inks as well as dedicated software, enabling companies to bring designs to the market more quickly, while keeping sensitive design information in-house.
Emona's 3D printing of electronics is provided by US based Optomec Inc's Aerosol Jet technology. Electronic components such as resistors, capacitors, antennas, sensors, and thin film transistors have all been printed with Aerosol Jet technology. The performance parameters of printed components, for example the ohm value of a resistor, can be controlled through printing parameters. Components can also be printed onto 3 dimensional surfaces eliminating the need for a separate substrate thereby reducing the size, thickness and weight of the end product. For example, Aerosol Jet is used to print antennas and sensors that conform to the shape of the underlying substrate such as a cell phone case. The Aerosol Jet process supports printing on a wide variety of substrates including plastics, ceramics and metallic structures. Nano-particle inks have been optimized for the Aerosol Jet process to allow printing (and subsequent ink sintering) onto plastic substrates with low heat deflection temperatures.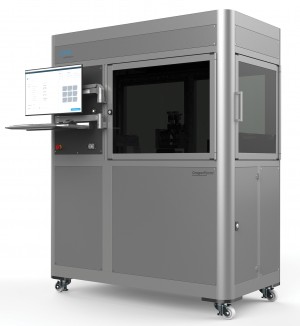 RE-SURFACE TCHNOLOGIES/HAWKER RICHARDSON Stand C14

NEW: Vision Engineering Full-HD Evo Cam II Digital Inspection Microscope

Following the worldwide success of the Evo Cam, Vision Engineering has released the all-new Evo Cam II digital inspection microscope, exclusive to Hawker Richardson and Re-surface Technologies.
Ideal for inspecting electronics, the Evo Cam II makes image capture and documentation simpler, faster and more reliable. Featuring optical magnification from 1.7x- 300x and exceptional high resolution 1080p/60fps image quality to deliver ultra sharp images every time.
The simple and intuitive design of the Evo Cam II makes it easy to use, requiring minimal training and ideal for production environments with multiple users.
Renowned worldwide for innovation, versatility and performance, Vision Engineering has a microscope to suit every application and budget. View the New Evo Cam II and Vision's extensive range of stereo inspection microscopes, optical and video microscopes, and digital inspection solutions at the Re-Surface stand C14.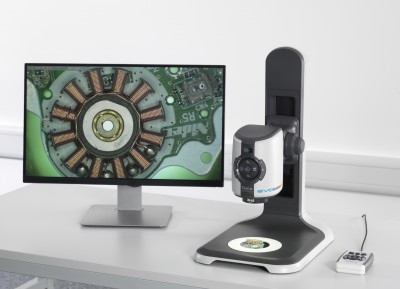 NEW: DFA VP-Jumbo Condensation Reflow Soldering Machine

Looking for a quality and affordable soldering solution for your lab, small production or prototype operation?
The DFA VP-Jumbo has been specifically designed for reflow soldering in laboratory and prototype environments.
Ideal for processing small size, low-quantity components and PCB's including QFPs, BGAs, Flip-Chips as well as hybrids, which can be re-flowed defect free with high quality results.

Thanks to its compact size, this top-loader, bench-top soldering machine is ideal for operators short on space. View the DFA VP-Jumbo in action and speak to the friendly team about our extensive range of soldering solutions at Stand C14.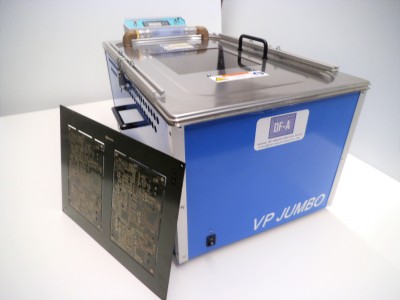 NEW: Cluso SMT Storage Solutions
The next generation in SMT storage solutions has arrived!
Introducing the NEW Cluso InvMan, an automated component reel inventory management system, exclusive to Hawker Richardson and Re-Surface Technologies.
Never lose a component again with this flexible and portable storage reel solution that offers ease of trackability and safe storage of all components, including standard and old-shaped components, reels, tubes, tray IC's, and other non-reel packages.
Remove and replace reels in under 7 seconds! Using a barcode scanner, simply scan, store and retrieve. Eliminate kitting for good - simply load directly from the InvMan to your SMT line.
Looking to save time, money and reduce component wastage? Try out the Cluso InvMan for yourself at Stand C14.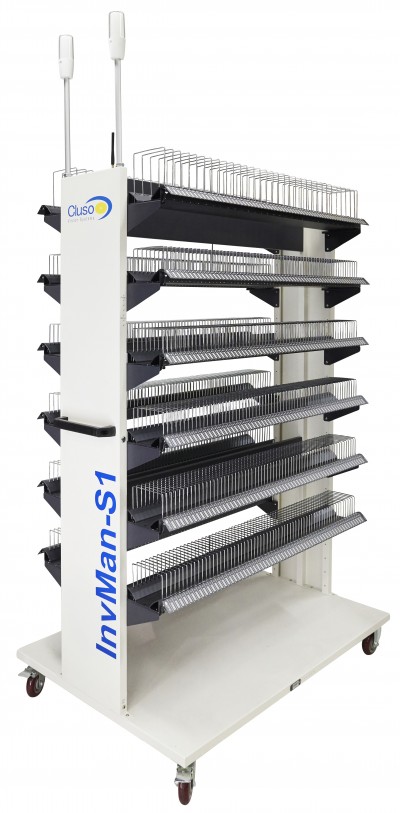 ROHDE & SCHWARZ Stand B30

Oscilloscopes that fit your requirements and your budget, from top value to top performance

Oscilloscope innovation that delivers measurement confidence. Excellent signal fidelity, high acquisition rate, an innovative trigger system and a clever user interface - that's what you get with Rohde & Schwarz, a leading manufacturer of oscilloscopes. Match your needs with the right oscilloscope platform, probing options and software applications. From general-purpose test to solutions for specific industry standards, we have you covered.

R&S RTP

The R&S RTP high-performance oscilloscope combines high-class signal integrity with a fast acquisition rate. The Rohde & Schwarz designed frontend components enable an expandable oscilloscope platform from 4 GHz to 8 GHz. Dedicated acquisition and processing ASICs and a high precision digital trigger deliver an industry-leading acquisition rate of approx. 1 million waveforms/s.
The R&S RTP is the world's first oscilloscope to compensate the impairment of the signal contacting in real-time while maintaining the high acquisition rate. Hardware based compensation filters are configured using user applied S-parameters. With the R&S RTP, it is even possible to trigger on deembedded signals.
The R&S RTP oscilloscope combines multiple instrument capabilities for time-correlated debugging in one box. Additional integrated test resources such as MSO or multiple 18-bit high-precision voltage and current channels for power measurements make the R&S®RTP the most powerful debugging tool. With all this in a compact instrument format plus silent operation, the R&S®RTP oscilloscope is the best fit for any lab.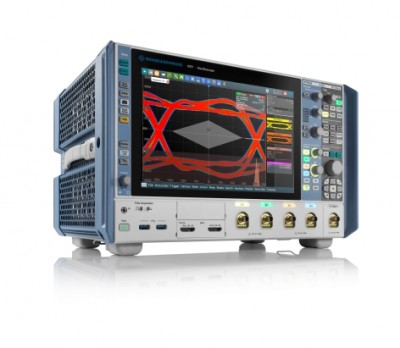 R&S RTM3000 and R&S RTA4000 series

The R&S RTM3000 oscilloscope offers bandwidths of 100 MHz, 200 MHz, 350 MHz, 500 MHz and 1 GHz. The products incorporate a proprietary 5 Gsample/s 10-bit ADC, and each model includes 40 Msample (80 Msample interleaved) per channel acquisition memory with an optional 400 Msample segmented acquisition memory. The R&S RTA4000 oscilloscope offers bandwidths of 200 MHz, 350 MHz, 500 MHz and 1 GHz. These models include the same 10-bit ADC, but have even more memory, with an astonishing 100 Msample (200 Msample interleaved) per channel acquisition memory and standard 1 Gsample (1,000 Msample) segmented acquisition memory. Both instrument series feature a brilliant 10.1" capacitive touchscreen display to operate quickly and efficiently.
Jörg Fries, Vice President Market Segments for T&M at Rohde & Schwarz, says: "Our engineers continue to bring innovative oscilloscopes to the market that increase measurement confidence. With the only 10-bit resolution and the deepest memory in their respective classes, the new instruments give customers even more compelling reasons to consider Rohde & Schwarz for oscilloscopes.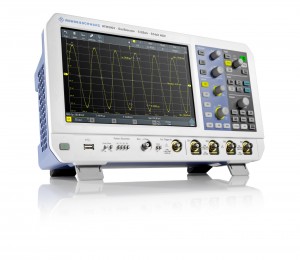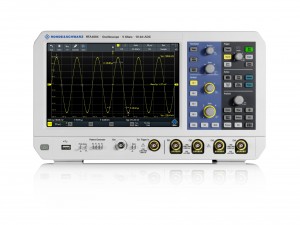 R&S RTB2000

Power of ten (10-bit ADC, 10 Msample memory and 10.1" touchscreen) combined with smart operating concepts make the R&S RTB2000 digital oscilloscope the perfect tool for university laboratories, for troubleshooting embedded designs during development and for production and service departments.
Oscilloscopes measure voltage versus time. A key technology block, the analog to digital converter (ADC) determines how well the oscilloscope can resolve the amplitude of measured signals. For most of the last three decades, oscilloscopes have predominantly offered 8 bits of vertical resolution, which allows a signal to be mapped to one of 256 vertical positions. The R&S RTB2000 includes a proprietary 10-bit ADC with 1024 vertical positions, four times more resolution than any other oscilloscope in this segment. The increased resolution enables users to make measurements that are more precise and can be particularly useful for detecting small signals in the presence of large-amplitude signals.
After bandwidth and sample rate, memory depth is the most important attribute that determines an oscilloscope's ability to handle a large range of troubleshooting tasks. The R&S RTB2000 oscilloscopes feature an industry-leading 10 Msample acquisition memory on each oscilloscope channel, and 20 Msample per channel in interleaved mode. This means ten times more memory than leading instruments in the segment. Users benefit from longer time captures for testing and troubleshooting, providing additional insight into electronic devices. Furthermore, this large standard memory can optionally be further extended to 160 Msample of segmented memory.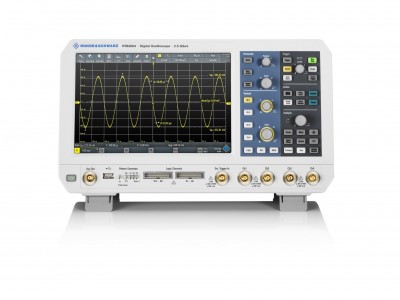 HW TECHNOLOGIES AND TJK STAND C8

The Smart Klaus
Industry 4.0 Workplace takes advantage of data by reflecting it to workers in a lean process. "How does it work?
Very easily: "Guidance - Verify - Confirm - Document."
This 4-step principle divides even complex work processes into clear and structured sub-processes. The employee is guided via a touch monitor, which indicates which step he has to perform for which article. The image processing software uses database synchronisation to check whether the process step has been completed correctly. Thereafter, the system confirms with OK or indicates to the employee that he has made a mistake and gives him the opportunity to correct.
The Smart Klaus ensures that the zero-error strategy is actually implemented. If required, the system documents the individual steps and ensures a 100 percent proof of quality and an enormous mental relief of employees.

The ergonomic, flexibly designed workspace adapts to the worker and offers optimal working conditions.
The digital twin supports employees in all industries
The assistance system is suitable for every industry and is characterised by its flexible application options.

We will have a "hands-on" system at the Electronex exhibition. So you can experience the positive effect of the "Smart Klaus" directly live on the fair.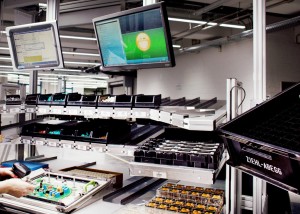 HELIOS POWER SOLUTIONS Stand C2

Remote Monitoring – RMS Series

No matter how far or remote your site's location maybe, as long as there is internet connectivity you will be able to monitor your battery voltage over the internet with isolated voltmeters. Control generators, pumps, lights, turn devices on or off. Measurement of battery voltage and charging. Measurement of wind turbine and solar panel output. Detection of A/C power, presence or absence. Door and window contact monitoring. Fuel tank level monitoring. All remotely and receive Email and SMS Alerts via the Helios RMS100, RMS200 or RMS300 remote monitoring card.

High reliability is extremely important for any remote communications site. Some remote sites are helicopter access only for most of the year. At $2000.00 per hour for a helicopter, you will want to plan your trips instead of reacting to dead batteries! The RMS Series monitoring card allows you to monitor the site and gather feed you need to plan a site visit.The RMS is a unique remote monitoring, data acquisition, and control device specifically designed for use with Battery powered wireless internet repeater sites, or other AC & DC powered remote equipment
.
• Has ultra-low power consumption and won't put a drain on your power source. Uses only 1.2 watts!
• Is powered by DC voltage from 10 to 60 volts.
• Uses embedded Ethernet technology for internet data acquisition and remote voltage monitoring.
• Uses the LINUX operating system for versatility, stability, and security.
Helios have added the RWS1000B and RWS1500B Industrial AC-DC power supplies designed to provide solid performance at an economical price

These new power levels of 1000W & 1500W will complement our existing RWS300B (300W) & RWS600B (600W) supplies. The 7-year warranty on the RWS-B series emphasises the quality and is ideally suited for industrial, test & measurement, broadcast, communications and LED signage equipment.

These new 1000W and 1500W additions are available with 12, 15, 24, 36 and 48V outputs, adjustable from -15/+10% of nominal. All models accept an 85 to 265Vac input and can operate at full load in -20 to +50oC ambient temperatures, derating linearly to 60% load at +60oC. High operating efficiencies of up to 88% reduce internal waste heat and component temperatures, resulting in electrolytic capacitor service life predictions of at least ten years.

To facilitate safe and easy installation, output cable connections are made to screw terminal blocks with covers rather than busbars. The terminal block can also be quickly configured for either a vertical or horizontal wiring orientation. The RWS1000B measures 127 x 63 x 198mm and the RWS1500B 127 x 63 x 261mm.
Options for the power supplies include double sided board coating, reverse airflow (which extends operation to +70oC ambient temperatures), remote on/off, current share and an isolated DC Good/Fan Fail signal.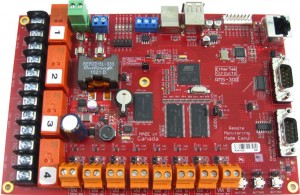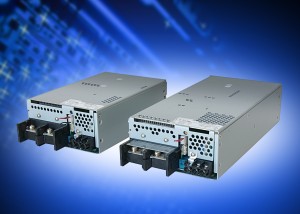 ROLEC OKW - ANZ Stand A26
ROLEC OKW Australia New Zealand will be showcasing the very best designs from their innovative range of aluminium, plastic and stainless steel enclosures, suspension arm systems and accessories.

Highlights from the ROLEC product range will be their extensive range of IP67/IP69K powder coated die-cast enclosures with standard features such as recessed lids for membrane keypads and labels, integral lid retaining straps and clip-on trim covers to hide unsightly lid screws; external mounting brackets are no longer required as the enclosures can be mounted on a wall or machine while fully assembled.
OKW will have an extensive range of award winning enclosure designs on display. These include the new Smart Terminal which consists of an aluminium profile construction with plastic or aluminium end covers. A range of modern, functional and ergonomic desk top, hand-held, wall mount, instrument, mobile and wearable enclosures will also be featured on the stand
Also featured will be the METCASE range of versatile aluminium electronic enclosures including desktop enclosures, small instrument cases, portable enclosures with tilt and swivel carry handle bar, 19" rack mount enclosures and wall mount enclosures.


EVOTEC enclosure family extended by another standard size as well as a wall suspension element
With the new enclosure size 100, the range of Evotec enclosures by OKW Gehäusesysteme has grown further. The small EVOTEC 100 is ideal for applications that require a reduced installation volume. The enclosures are particularly robust and are suitable for harsh working environments. The enormous variety of applications is rounded off by a wall suspension element for the sizes 200/250. Examples of possible applications would be measurement and control engineering, control technology, GSM modules, networks, medical and laboratory technology or information technology.
The new EVOTEC 100 enclosures are available with 2 flat top parts that differ only in height. The EVOTEC 150/200 or 250 from the standard range are suitable for even more installation volume, and desktop versions with/without recessed surfaces are available in the sizes 200 and 250. Pleasant contours guarantee an elegant appearance. All versions are made from high-quality ASA+PC-FR with high UV protection. Thanks to the optional seal, the enclosures achieve protection class IP65.
Additional modifications, such as mechanical processing for interfaces, lettering, painting/special colours and printing or EMC coating allow the enclosure to be customised according to the user's individual requirements.
SMART-TERMINAL – Aluminium profile enclosure for robust display applications
With the new SMART-TERMINAL enclosure range, OKW Gehäusesysteme offers an elegant, flexible and robust aluminium profile enclosure in its standard product programme. A uniform profile cross-section with variable length design as well as matching accessories allow a flexible variety of applications as a table-top or wall-mounted version.
The new SMART-TERMINAL range of enclosures consists of a C-shaped top profile made of anodised, glass bead-blasted aluminium. It includes a recessed area for membrane keypads/decor foils and flat interface surfaces on the sides. There is sufficient space here for operating elements, switches or displays. The flat base profile is also made of aluminium and closes the enclosure from below with 6 screws. On the open profile ends, the SMART-TERMINAL is closed with covers made of high-quality ASA+PC-FR material in the colour lava. For the plastic parts there are separate moulded seals in the colours volcano or green (RAL 6016). The complete enclosures are available with profiles in the dimensions 170 x 50 mm (width x height) and in the profile lengths of 160 mm, 200 mm and 240 mm. The versions were designed to fit standard display and touch solutions from 4.3" up to a maximum of 8". The length 200 mm is ideal for a 7" touch solution. To ensure optimum operation, an enclosure canting kit for a 12 degree angle of inclination is available in the range of accessories.
The SMART-TERMINAL enclosures can be further modified by the OKW Service Centre. The options include, among others, mechanical machining for interfaces, a customer-specific profile length, individual lettering and printing, or the manufacture and installation of digitally printed foils.
Areas of application include machine and plant engineering, safety engineering, building services engineering, measurement and control technology, environmental technology, agricultural vehicle technology, construction machines and embedded systems.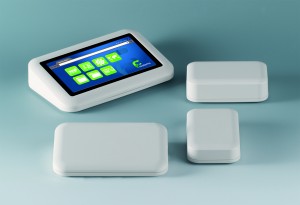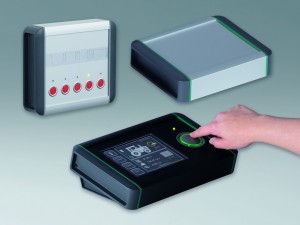 JS ELECTRONICS Stand D1

JS Electronics is a flexible printed circuit manufacturer that has consistently delivered high quality flex over 20 years, all our engineers have significant experience in Flex industry.
Whether you are a novice in the area of flex circuit design or long time user we lend our expertise providing comprehensive support from concept to completion.
• SMT / DIP of nearly all components
• Shield flex circuit reduce noise and control impedance of signal lines
• Rigid-flex circuit combine FR-4 area for dense components population interconnected with flexible polyimide which can be bent to accommodate packaging needs.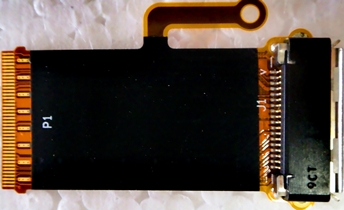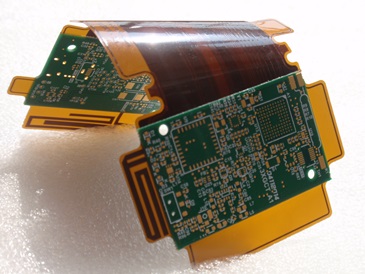 QUALIECO CIRCUITS Stand A17

Standard and Quick Turn-around PCB manufacturing and assembly services by QualiEco Circuits
QualiEco Circuits has been offering standard and fast Turn-around PCB manufacturing and assembly services to their customers in Australia and New Zealand for past many years. Prototypes can be assembled overnight and shipped once PCB, components and stencil is ready for assembly. The company also offers express turn around PCB manufacturing from their off-shore plant.
The Team at QualiEco Circuits Pty Ltd. is well known for providing excellent quality electronic manufacturing services and solutions. Their customers have been enjoying excellent quality, low prices and on-time delivery for years. The company has various customised delivery solutions for all customers at affordable prices. Customers can choose from the fastest to semi-fast and normal delivery options based on their budget and urgency.
This vibrant, growing company offers outstanding technical support and attention to detail. Proud of providing reliable services for more than 15 years, QualiEco Circuits is currently a market leader in New Zealand. The company is now enjoying a successful 7th year of operation in Australia.
Complete solution in specialized PCBs - Give wings to your imagination!
Rigid PCBs Flexible PCBs Rigid-Flexible PCBs Metal Core PCB
(Up to 32 layers) (Single and Multilayer) (Single and Multilayer) (Single and Multilayer)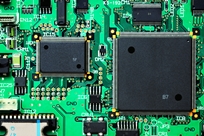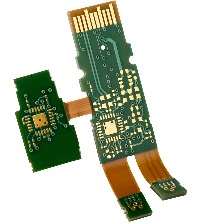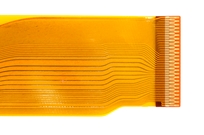 CONTROL DEVICES Stand A15
TS SERIES THUMBSTICK: A SIMPLE & ROBUST MICRO JOYSTICK
Control Devices is the official APEM distributor for Australia and NZ and is happy to promote APEM's new TS series Thumbstick, a miniature joystick featuring contactless Hall effect technology to provide long life proportional control. It is similar in size and operation to "gamepad" controls and is easy to install. The TS with plastic threaded housing is ideally suited for high volume, price sensitive applications including UAV and material handling remote controls.
And recently APEM Inc. will expand the TS series range to include a patented LED backlighting option. With a total current draw no greater than 16 mA, the new LED Thumbstick option is ideally suited for wireless remote-control applications where visibility is low and battery life and power consumptions are critical.
LED Backlighting: The TS Series new backlighting option utilises an overmolded polycarbonate "Castle" style actuator to effectively diffuse the LED and provide illumination over a wide viewing angle. Colours available: Red or Blue.

MAIN FEATURES
• Threaded plastic D-flat housing & LED options
• 1 or 2 Axis
• USB outputs available
• Non-contact Hall effect technology
• IP67 above panel sealing
• Pressure washable to IP69K
• Redundant outputs available
• Rear or drop-in mounting available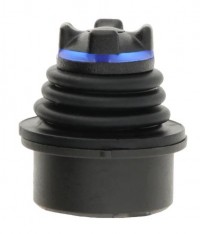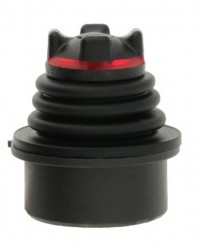 CONGATEC Stand B8

congatec modules accelerate first-to-market strategies
The new Qseven and SMARC modules with NXP i.MX8 real-time processors are of great interest for a wide range of industrial, stationary and in-vehicle applications, as the processors integrate up to four cores and high-performance graphics for up to four independent displays with low energy consumption. Since the modules are designed for the extended ambient temperature range from -40°C to +85°C, they can also be used in fleet systems for commercial vehicles or in infotainment applications in cabs, busses and trains as well as all the new electric and autonomous vehicles. The acceptance of these new platforms is accelerated by the widespread use of ARM technologies in the consumer electronics market, which further reinforces the dominance of ARM technology, especially in the (ultra-) low-power segment of embedded computer technologies.
Real-time networking of Industry 4.0 factories
This real-time networking shows real-time data - the base for most Industry 4.0 installations - can still be transmitted in time even when utilizing a heavily loaded Ethernet connection. Based on Pico-ITX boards conga-PA5 with Intel® Atom™ E3900 processors, it integrates the Time Sensitive Networking (TSN) protocol in compliance with the IEEE 1588 Precision Time Protocol specification. Designed to ensure the real-time capability of Ethernet connections, it also safeguards the real-time capability of higher layer communication protocols such as DDS or OPC UA and other industrial Ethernet protocols.
This fanless embedded platform can also be designed with the COM Express Type 7 modules based on latest 16-core Intel® Atom™ processors (codenamed Denverton). Customers benefit from virtualized, fanless embedded server platforms with up to 16 cores, enabling them to provide highly flexible, real-time edge services as well as Industry 4.0 and M2M/IoT services of all kinds. In addition, dedicated infrastructure components such as firewalls, load balancers and routing systems can be standardized using software-based solutions and integrated into embedded fog servers. All of this helps OEMs increase the agility and cost-effectiveness of their communications infrastructure.
One for all: the embedded motherboard that suits all high-end applications
conga-IT6, a Mini-ITX embedded motherboard for high-end applications that offers high scalability across all suitable embedded processor sockets thanks to its COM Express Type 6 slot. Users of the new motherboard can scale their applications across all relevant processor generations and manufacturers as required, thereby keeping up-to-date with the latest developments in high-end embedded computing. This scalability allows flexible high-end performance classes from Intel® Core™ i7™ and Intel® Xeon® E3 processors to future designs – for instance, based on the AMD Zen architecture. The new embedded motherboard also extends the long-term use of existing Mini-ITX motherboard designs, since discontinued processor modules are easily updated by swapping in new modules without any board modifications.
The industrial-grade conga-IT6 Mini-ITX motherboard for COM Express Type 6 modules combines standard embedded interfaces with performance features from the IT world to meet the requirements of even the most demanding graphic workstations and mini servers. For the connection of high-performance graphics cards and GPGPUs, a PCIe graphics slot is available with up to 16 lanes depending on the module. For additional peripherals, 4x USB and a miniPCIe port are provided.
COM Express Type 6 module with AMD Ryzen™ Embedded V1000 processors
The new conga-TR4 high-performance modules with COM Express Type 6 pinout are based on the latest AMD Ryzen™ Embedded V1000 multi-core processors. These modules offer up to 52 per cent more processor performance, reaching up to 3.75 GHz. Thanks to symmetrical multiprocessing, they also provide particularly high parallel processing performance. They support up to 32GB energy-efficient and fast dual-channel DDR4 memory with up to 3200 MT/s and optional ECC for maximum data security. It is also the first congatec COM Express Type 6 module to allow a complete USB-C implementation on the carrier board including USB 3.1 Gen 2 with 10 Gbit/s, Power Delivery and DisplayPort 1.4.
The new integrated AMD Radeon™ Vega graphics with up to 11 compute units marks the cutting edge of embedded graphics. It supports up to four independent displays with up to 4k UHD resolution and 10-bit HDR, as well as DirectX 12 and OpenGL 4.4 for 3D graphics. The integrated video engine enables hardware-accelerated streaming of HEVC (H.265) video in both directions. Thanks to HSA and OpenCL 2.0 support, deep learning workloads can be assigned to the GPU.
Powerful congatec six-pack for Type 6
The new conga-TS370 COM Express Basic Type 6 Computer-on-Modules are available with six-core Intel® Xeon® and Intel® Core™ i7 processors, or quad core Intel® Core™ i5 processors in a 35 to 45 W cTDP envelope and up to 32 GB DDR4 2666 memory with ECC option. The integrated Intel® UHD630 graphics supports up to three independent 4k displays with up to 60Hz via DP 1.4 , HDMI, eDP and LVDS. For the first time, designers can switch now from eDP to LVDS purely by software without any hardware change. The modules excel with high bandwidth I/Os including 4x USB 3.1 Gen 2 (10 Gbit/s), 8x USB 2.0 and 1x PEG and 8 PCIe Gen 3.0 lanes for powerful system extensions including Intel® Optane™ memory. All common Linux operating systems as well as the 64-bit versions of Microsoft Windows 10 and Windows 10 IoT are executable.
Target applications are high performance embedded and mobile systems, industrial and medical workstations, storage servers and cloud workstations, as well as media transcoding and edge computing cores.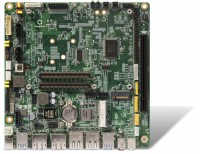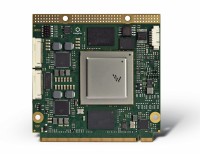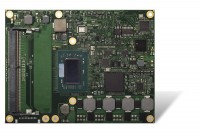 ELEMENT14 Stand D26

element14 - your trusted partner for electrical and electronic needs
element14 is a high-service distributor of technology products, services and solutions for electronic system design, maintenance and repair. element14 have over 600,000 products stocked across our global distribution network, from 3500 leading manufacturers.
Our global reach as part of Premier Farnell Group provides greater access to stock and stronger relationships with suppliers, ultimately allowing us to better serve your needs with the latest technologies and a wider range of products.
In addition, we help our suppliers reach their target market through our range of advertising options to suit every budget, online and offline platform.
Special offer: customers coming into visit can avail 10% off on their purchase.

New Product: Raspberry Pi 3 Model B+ 1GB RAM
Element14 is product to launch the new Raspberry Pi 3 Model B+ which is the latest product in the Raspberry Pi3 range, boasting a 64-Bit quad core processor running at 1.4GHz, dual band 2.4GHz/5.0GHz wireless, Bluetooth 4.2/BLE, faster Ethernet and PoE capability via a separate PoE HAT.
The dual band wireless comes with modular compliance certification allowing the board to be designed into end product without the need for further wireless compliance testing, improving both cost and time to market.
Raspberry Pi 3 Model B+ Starter Pack

The perfect pack containing all the official products you need to get started with the Raspberry Pi 3 Model B+.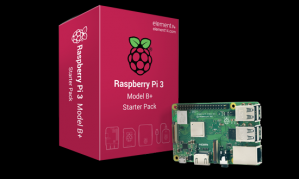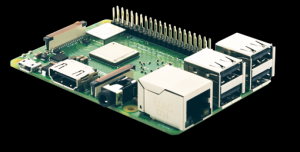 HAMMOND ELECTRONICS Stand B26

Hammond Electronics will be showing the new 4U heights and 559mm depths added to all sizes of the popular RM family of 19 inch and half width rack mounting and desktop enclosures. Manufactured entirely in aluminium, the units are available with plain or vented top and base covers; the front and rear panels are interchangeable and all 19 inch sizes are supplied with front panel mounting angles. Adjustable rear panel mounting angles are also available as an accessory for the 457mm, 1U to 3U versions. All sizes are supplied with self-adhesive rubber feet for desktop use.
The key features are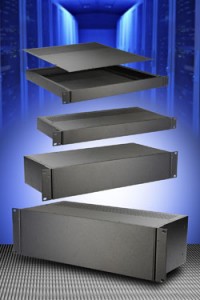 • 1U to 4U heights
• Five depths: 108 (1U to 3U half width only), 203, 330, 457 and 559 mm
• All aluminium construction
• Full width 19 inch units supplied complete with front rack mounting angles
• Supplied pack flat for low transport costs and easy assembly, check out the video
• Plain or ventilated top and base covers
• Interchangeable front and rear extruded flat panels
• Optional adjustable rear mounting brackets for the two deeper units
• Optional front panel handles
• Hard wearing black powder coat finish
HETECH Stand C10

SHOW SPECIAL - How can you extend the life of your product?
FREE Product Assessment for dust, UV and waterproofing (First Three Customers Only)
In today's rapidly advancing age of technology, we are finding electronics in every nook and cranny in the world. What does this mean for the electronics for your product? It has to be able withstand and survive the harsh environments that the world has to offer such as dust, UV and water; extending the life of your product and reducing maintenance costs.
Come and visit us a STAND C10 and have your product assessed for water, dust and UV proofing for the first three customers (Valued at $2000). We will give you free advice how you can protect your product and offer you the options available and costing involved. If it is a more complex request, we will work with you after the show to assess your product in more detail.

Your Product Development & Manufacturing Partner

Hetech is an established Electronic Design and Manufacturing company providing customer specific solutions and concept-to-delivery products for 25 years. Our ongoing investment in innovative technology positions Hetech at the forefront of electronics manufacturing, with design and manufacturing processes, conformal coating, software and equipment which are unparalleled in Australia and around the world.
Our team will walk you through the design process from researching and sketching of your product, comparative product research in the market, model production, prototyping, testing and volume manufacturing.
Our experienced team of engineers handle difficult product repairs not supported by other companies. Hetech's technical and repair services include; compliance testing, repairs, cost assessment, design feedback and Australian based technical support.

TRIO TEST & MEASUREMENT Stand A11
Thermal Imaging - Improve Product Design and Reduce Test Times
Whether the goal is R&D or product testing, heat can be an important indicator of how a system is functioning. The FLIR ETS320 from TRIO Test & Measurement helps engineers and test technicians collect accurate, reliable data in seconds and analyse it quickly.
The FLIR ETS320 takes the guesswork out of thermal testing, for fast discovery of hot spots and potential points of failure, detecting design flaws that materialise as heat.
• Sensitive enough to detect temperature shifts smaller than 0.06°C
• Wide temperature range for quantifying heat generation and thermal dissipation
• Measures small components down to 170 µm per pixel spot size
• 320 x 240 IR sensor offers 76,800 points of non-contact temperature measurement
• True 45° field of view for broad initial scans to identify potential problems
• Records standard radiometric JPEGs
• Pole mount included for fast and easy setup
• Crisp 3" LCD display provides immediate thermal feedback
• FLIR Tools+ software for instant analysis, including Time vs. Temperature measurement
SIGLENT new Spectrum and Vector Network Analyser
The SIGLENT SVA1000X series spectrum analysers are powerful and flexible tools for broadcast and RF device testing. With a wide frequency range from 9kHz to 1.5 GHz, the SVA delivers reliable automatic measurements and plenty of features including a tracking generator, preamplifier and web browser remote control.
The base model is a swept super-heterodyne spectrum analyser and optional functions include
• Vector Network Analyser;
• Frequency Domain Reflectometer based distance-to-fault locator;
• Modulation Analyser;
• EMI Pre-compliance Analyser
Applications include broadcast monitoring/evaluation, site surveying, EMI pre-compliance, research and development, education, production and maintenance.
The SVA1000X extends the capabilities of the SIGLENT portfolio that offers solutions Within Budget – Without Compromise including power supplies, digital multimeters, signal generators, oscilloscopes, spectrum analysers and accessories.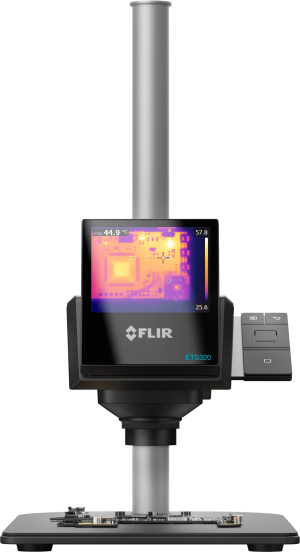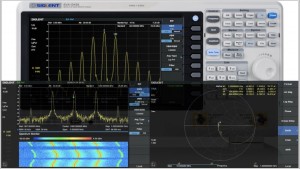 ON-TRACK TECHNOLOGY Stand C23
On-track Technology is a locally owned Contract Electronic Manufacturer (CEM) with our manufacturing facility operating out of Mascot Sydney. We help OEMs and local designers with a wide range of manufacturing solutions to assist them in their electronic manufacturing. Whether your business requires a full turnkey box build or assistance in just one sub-assembly of your product manufacture, On-track Technology is flexible in tailoring our manufacturing services to best fit your manufacturing requirements, so our manufacturing facility becomes an extension of your business.

If you are looking for a reliable local manufacturing partner, we help many local businesses in a wide range of manufacturing services ranging from PCB Assembly, Bare PCB Manufacture, Component Sourcing, DFM/Prototyping PCB, Through-hole (TH) Auto Insertion, Traceability of Production, Cable Assembly, and/or increasing your Business Manufacturing Capacity.

This year On-track Technology have added more High-speed Component Placement machines inline to our three already existing fully automated SMT placement lines and running each SMT lines longer across two shifts per day to give you even more manufacturing capacity.
On-track Technology has also revamped and increased our Final Chassis Assembly to six lines, giving you more capacity to final assemble all your products in one manufacturing location.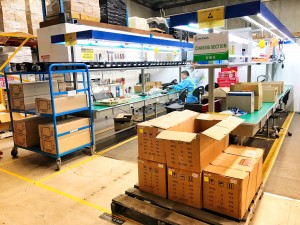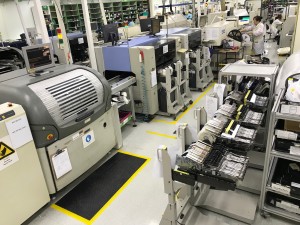 SIMULTECH Stand C29
Simultech introduces the latest additions to updated range of test chambers for the Electronics Industry
In addition to the new ClimeEvent range of Temperature and Humidity chambers, Simultech has now introduced the new updated
Thermal shock and EMC compatible chambers designed specifically for the Electronics industry.
Test Cabinets for Temperature Shock Tests, ShockEvent
Environmental conditions have a great effect on the functionality and reliability of electronic components, devices, and systems. In order to discover latent weaknesses in the shortest possible time, a typical temperature test is often insufficient; test specimens must be subjected to multiple, abrupt temperature changes. With our temperature shock test cabinet, extremely rapid temperature changes in the range from -80 °C to +220 °C can be implemented. This allows you to reduce the incidence of early failures and increase the reliability of your products. Reproducible, certified, and in time lapse.
Our highlights:
New, eco-friendly refrigerant R449A
WEb-based user interface WEBSeason®
Our Environmental Simulation Chambers and Systems are available under the brand names weisstechnik® and vötschtechnik®.
EMC Test Cabinets, Type LabEvent
Electromagnetic compatibility (EMC) is defined as the ability of an electrical device to work satisfying in its electromagnetic environment (interference susceptibility) and with no influence on its environment in an impermissible manner (interference). The proof of not being susceptible to interference and sufficiently low interference emission is specified in the EMC directive and the EMC standards.
By using the test devices of the weisstechnik® and vötschtechnik® brands, you can examine the effect of temperature on your samples and benefit from the optimal shielding effectiveness of this series during your EMC tests. The test room is designed to realize a shielding function of the internal container, i.e. the ability to reduce electromagnetic fields and surface currents.
The EMC Test Cabinet is available with 20, 110 and 210 liter test space.
Reliable measurements are ensured by:
• New, eco-friendly refrigerant R449A
• EMC protection >50 db in the range 0.5 - 3.0 GHz
• Preparations for customer-specific plug board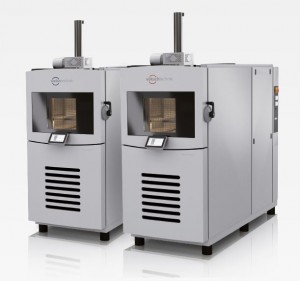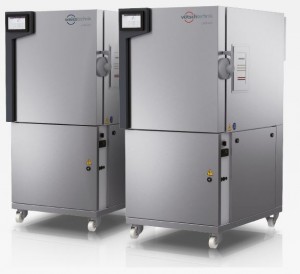 HK WENTWORTH/ELECTROLUBE Stand A16
Electrolube's electro-chemical solutions portfolio have gone from strength to strength since it last presented to the Australian market. This year the company plans to show key products from its thermal management, conformal coatings and resins ranges as well as demonstrating the significant advances it has made with these products in the area of LED lighting protection solutions, demand for which has grown exponentially in recent years.

Highlighted products from the thermal management range include innovative new phase change materials, TPM350 and TPM550 that offer high thermal conductivity, low thermal resistance at the interface and ease of application via screen-printing.
TPM350 has a thermal conductivity of 3.5W/m.K and has an 'activation' temperature of 50°C. At this 'activation' temperature, it changes state to become a lower viscosity material, minimising contact thermal resistance and improving thermal conductivity during device activity. Once it cools, it reverts to its original cured state eliminating flow outside of the targeted area.

If thermal pads are your preferred thermal management solution, Electrolube offers two silicone based product lines: thermal gap pads GP300 and GP500. GP500 has an impressive thermal conductivity value of 5W/m.K and has a very low thermal resistance value while GP300 has a value of 3W/m.K. Both options are supplied in 200x200mm, in thicknesses of 0.5mm and 1mm, and can be cut to size if required for ease of application.

Electrolube is among the world's foremost experts in the formulation and application of conformal coatings designed to meet international approvals (including European and American military specifications). The range of products is extremely broad, comprising acrylics, silicones, polyurethanes and environmentally friendly VOC-free options. Electrolube's pioneering new range of 2K conformal coatings are a unique technology combining the two-part chemistry of encapsulation resins with the ease of application and process of a conformal coating. The new range of coatings are solvent-free, fast-curing and high performance, designed for application by selective coating. The 2K materials provide an excellent, solvent-free alternative to both single part UV and silicone coating materials.

Electrolube's epoxy, polyurethane and silicone resins ranges have wide applications potential but the rapidly growing LED market has added considerable impetus to product development. Among the new products on show is the ER2224 epoxy, which provides high thermal conductivity and excellent thermal cycling performance, making it ideal for use in LED lighting units where it helps to promote heat dissipation and prolong unit service life.
The tough new UR5638 polyurethane resin provides excellent levels of protection while maintaining a clear, transparent finish. It exhibits superior UV stability as well as excellent transmission of visible light, making it an excellent resin for white light LEDs. It's low exotherm during cure makes it an ideal solution for LED applications involving the encapsulation of larger LED lighting units.

There is also an additional bonus for visitors this year as Electrolube's pre-eminent resins expert, Alistair Little will be on hand to provide advice on anything from application technique, material choice and problem solving.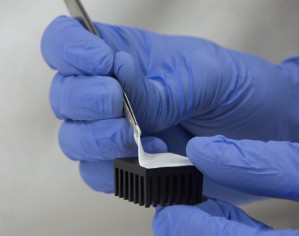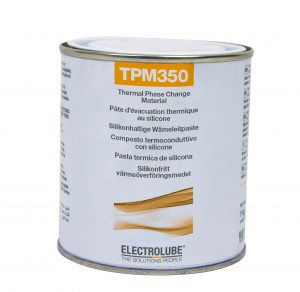 PRECISION ELECTRONIC TECHNOLOGIES Stand D14
Show Special Offers:
Place an order over $20,000 AUD (excl. GST) and max 4 layers PCB and receive all tooling costs FREE of charge. Tooling includes PCB Tooling, SMT Program and Paste Stencil (valued between $750 AUD - $1,500 AUD).
Offer ends 31 December 2018.
For any PCBs with over 4 layers, our friendly team will be happy to help you out.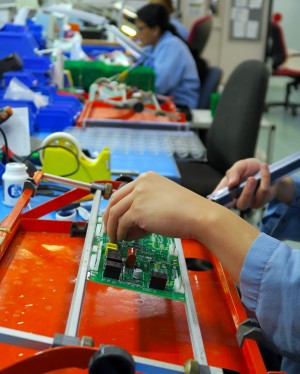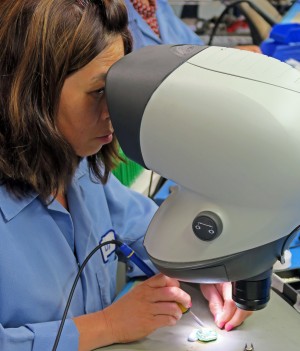 MACHINERY FORUM Stand B27
ERSA Datenblatt
Ersa has re-engineered its well known and worldwide proven i-Con soldering stations and enhanced their functions.
The i-CON 1V as well as the i-CON 2V now comprise the control electronics, already implemented in the i-CON VARIO multi-channel soldering and desoldering stations. For operators multiple new features show up:
The i-CON 1V and i-CON 2V can now operate the new soldering and desoldering tools CHIP TOOL VARIO and X-TOOL VARIO. The compact vacuum untit supplies vacuum for the X-TOOL VARIO or existing X-TOOLs.
Technical highlights:
• One or two channel soldering and desoldering station
• Digital temperature control with intelligent power management
• Operation of eight different soldering tools
• Intuitive One-Touch operation with multi-funk- tional display
• Integrated micro-SD card slot for updates
• Optional with interface to control heating plate and fume extraction unit
IHS - Linear Arm Fixtures
Whether it's a small assembly group or mini series, a prototype or limited quantity production run the more specialised and focussed your inspection and testing operations are, the more individuality the relevant hardware needs to offer. The universally applicable LHS linear arm fixture from ATX is ideal for this purpose, because it adapts itself seamlessly to your specific application. In addition it enables you to implement your testing with simplicity and precision, but also at low cost.
As simple as it is efficient: our high-capacity mechanical testing concept. Whatever individual parameters are your specific focus in inspecting and testing your assembly groups, as a lea- ding technological and innovative supplier of high quality mechanical test fixtures ATX is sure to have just the right solution for your specific requirements.

Highlights:
• Ideal for high-precision tasks
• Individually adaptable
• Effortless operation
• For two-sided operation
• Available in 5 sizes
The high-capacity LHS from ATX is available in four sizes. It represents precise results because it supports your testing experts with linear lift. In application the lever is lowered vertically onto the test probes, avoiding any bending of the probes and providing you with reliable test results.

Digital Microscopy

Microscopes are required across many aspects of industry for inspection purposes. Products coming off electronic, agricultural, medical and automotive production lines need to be carefully scrutinised. Passports need to be manually looked at, PCB and IC's need to be checked for integrity. And while machine vision can automate the rapid inspection of an ever-expanding spectrum of products, many aspects of this process, the majority in fact, still rely on a look-see from a real human.
Until very recently this meant an operative in, say, an electronics assembly line, looking through an analogue, optic microscope and making a visual judgement on the integrity of the product. This remains the way in which 90% of inspection requiring medium magnification is carried out in the world today because it is affordable and reliable.
The other end of the magnified inspection market involves Advanced Optic Inspection (AOI) machines. These are excellent digital systems in use on
automotive production lines and PCB inspections. They capture a magnified image and display that on a screen for indexed inspection and analysis. The one drawback is that AOIs typically cost upwards of 100,000 euros and are not viable for the majority of industrial inspection in which a trained human may suffice.
Now, due to advances in digital camera technology there is a solution from Visus Technology which has created potentially huge market.
PCBs — Printed, not Etched Presenting the Voltera V-One PCB printer and reflow soldering station

Etching your own PCBs used to be a real chem lab exercise. First you had to copy the PCB layout from film to the PCB material by exposing, developing and fixing the photo resist. That involved a lot of chemicals, with unpleasant odors and a good chance of splashes or spills. Now there's an entirely new option: the Voltera V-One can print circuit tracks, apply solder paste, and even solder the components in a reflow process.
PCB production with their V-One PCB printer, which could inspire many electronics enthusiasts to start making their own PCBs. That's true twenty-first century technology — with the V-One you print PCBs, apply solder paste to the board, and even solder manually placed components using a reflow process.
KEYSIGHT TECHNOLOGIES Stand B27
New Product - Streamline Series USB Platform offers advanced capabilities with zero compromises

The new Keysight Streamline Series is comprised of compact USB instruments: vector network analyzers (VNAs), oscilloscopes and an arbitrary waveform generator (AWG) that leverage Keysight technologies, measurement algorithms, and application software.
Controlled via PC through a USB connection, Keysight's new instruments help customers save space on the test bench and are easily shared among members of a development team. The small rack size makes them ideal for manual or semi-automated testing in design-validation and light-manufacturing applications.

Keysight Streamline Series platform is available in three models:

• The P937xA models are compact two-port VNAs with frequency coverage up to 26.5 GHz. All are designed to test passive devices such as antennas, filters and duplexers. Running on a host PC, the context-sensitive user interface is identical to that of Keysight's latest benchtop VNAs.

• The P924xA high-performance oscilloscopes provide full measurement functionality along with advanced triggering, rapid waveform updates, and popular features such as zone triggering. With the Keysight InfiniiVision interface running on the user's PC, the look and feel is consistent with familiar benchtop oscilloscopes.

• The P9336A three-channel AWG provides 16-bit resolution with maximum analysis bandwidth of 540 MHz and maximum onboard memory of 4 GB.

Applications range from general-purpose testing to complex I/Q signal generation for characterization of transceivers and modulators.
More information about Keysight Streamline Series instruments is available at www.keysight.com/find/streamline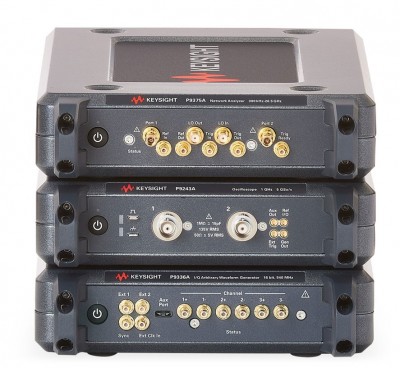 .
New Promotion - Promotion code: 6.027

Get a FREE close-field probe set with the purchase of a new CXA signal analyser.
With the N9311X-100 close-field probe set, you will be well equipped to find any troublesome EMI emissions early and avoid costly rework later. For a limited time, get an N9311X-100 close-field probe set when you purchase an N9000B CXA signal analyser with 7.5-GHz frequency range (Option 507) and preamplifier (Option P07).

The N9311X-100 contains four different H-field near field probes that cover frequencies from 30 MHz to 3 GHz. Near field probes are useful in the early R&D stage to evaluate or troubleshoot EMI emissions and avoid costly rework later:

• Choose the best probe-shape to move and rotate over the DUTs surface to locate the maximum power readout.
• Identify emissions from chipset pins, PCB traces, power and signal cables, or metal closures.
• Capture and display the truest spectrum and power of the EMI emission sources.

TARAPATH Stand C22

LPMS – AlphaJ – EMTT03

Suitable for low to medium volume, high mix manufacturing, the Alpha 100J – EMTT03 is a versatile low pressure overmoulding solution. The 3 litre tank coupled with the handheld dispensing head enables the user to encapsulate multiple products concurrently, enabling more efficient workflow. The tank capacity means refills are minimised and production can continue with less downtime. With the ability to process most Technomelt Materials, three thermal control zones and pump speed control, the LPMS Alpha 100J – EMTT03 is a compact machine suitable for PCB protection, connector overmoulding, and general electronics encapsulation.
Henkel – TechnoMelt AS 8998

TechnoMelt AS 8998 is a new and efficient approach to conventional PCB masking techniques for conformal coating processes. An alternative to manual taping methods, TECHNOMELT AS 8998 is a hot melt adhesive that can be precisely applied to keep-out areas via automated dispensing systems, reducing process time and labor costs.
The material is compatible with conformal coating chemistries, delivers better control during conformal coating, requires no curing and releases cleanly from various substrate surfaces.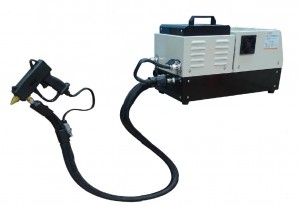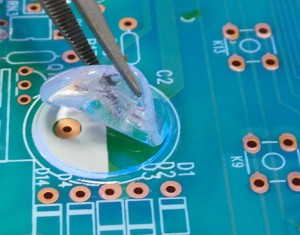 LEACH (SZ) CO Stand D29
LEACH makes EMS easier and simpler.
Our service:
Components global sourcing, PCB Assembly, Programming/testing, Harness and final assembly, global logistics.
Our advantages:
1. Flexible production for small to medium quantity projects.
2. High-mix Engineering
3. DFM Improving for lower cost but higher manufacturability
4. Supply-chain management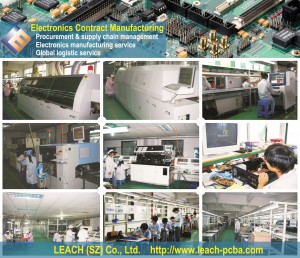 MORNSUN/FAIRMONT MARKETING/DLPC Stand B22

Mornsun's New Fixed Input R3 series DC Converters

Distributed in ANZ by DLPC Pty Ltd & Fairmont Marketing in Victoria offer solutions to 3 common issues with power supply design.
Short circuit protection where large capacitive loads make it difficult to coexist, focus on high efficiency at full load whilst ignoring efficiency at low load, standby current power consumption or in situations where large capacitors cannot be used as it may cause start up failure or destroy the converter.
MORNSUN's fixed input voltage DC/DC converters R3 series have adopted IC technologies that decouple these conflicts whilst maintaining continuous short-circuit protection, capacitive load and start-up capability which greatly resolves problems existing in the design.

Mornsun's fixed input range of 1W DC/DC R3 Converters free up your time from power supply design with a simple low cost and effective solution with a small foot print.Offering a comprehensive range of cross industry SIP, DIP and SMD pin compatible packages.
Featuring high efficiencies at low and high load low standby power consumption, high capacitive loading up to 2400uf, short circuit protection with soft start up, UL62368/EN62368 Certifications in place.
SIP Series:
A/B/E/F_S-1WR3, B_LS & IF_LS-1WR3, IB_S& IB_LS-1WR3, DIP Series F05_N-1WR3, SMD Series A/B/E/F/CF_XT-1WR3 & IB_XT-75WR3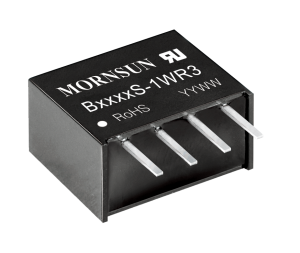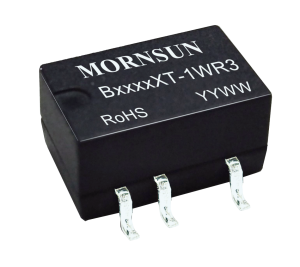 ONBOARD SOLUTIONS Stand C16

ONBoard Solutions is excited to announce the Australian/NZ launch of a new player in the exciting world of collaborative robots from TM-Techman, Taiwan. These systems are perfect to automate various tasks around your factory and help implement any automated industry 4.0 projects you have in mind.
We will also be launching a leading Vapor Degreasing system provider CleanSys (TCI Engineering) Switzerland. We will have a CleanSys entry level CSM1515 compact vapour degreasing system at the show.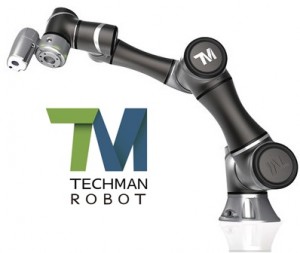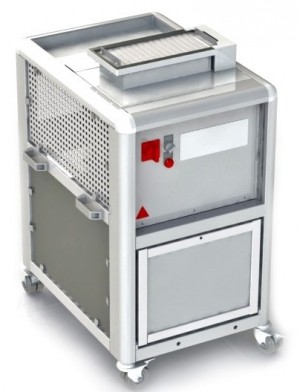 Low -voiding wide process window solderpaste

ECORELTM FREE 305-16LVD is a no clean, lead-free solder paste developed with the reliable chemistry of the ECOREL Solder Paste range.
• Ultra low voids percentage and reduced voids size in large contact area components
• Very good wetting on any surface finish including OSP
• Transparent and colorless residue even after multiple reflow cycles Good first pass yield testability in ICT.
The product is suitable for standard convection reflow and vapor phase soldering.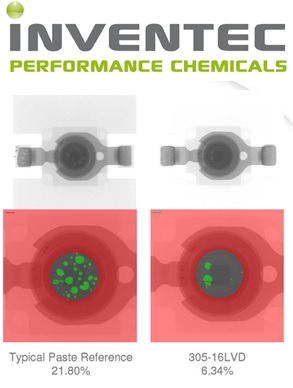 Altronic Distributors Stand A2

Altronic Distributors introducing "Powertran"- Australian approved and certified Toroidal Transformers
Altronics offers a range of Toroidal Transformers which are certified and approved as per AS/NZS61558.2.6 standards. These Toroidal Transformers are available in various voltage and current ratings starting from 30 VA to 500 VA.
Altronic Distributors New Finger touch LED switches
The new touch LED switches are offered in Stainless Steel body with Red or Green Coloured LEDs.
The two models will be available in momentary or alternate action. These LED switches are designed for 50 million cycles and are IP68 , IP69K rated for industrial applications. These finger touch switches will require a mounting hole size of 19 mm and have a temperature range of -25 to +55 degrees C.
New Lead Free Touchscreen Soldering Station 100W
Altronic Distributors is introducing T 2460A high power temperature controlled soldering station with touchscreen. This soldering station incorporates a special intelligent microchip control design. It has been developed to meet the present and future Lead-free soldering needs of the electronic assembly industry and suitable for work on SMD electronics. The ergonomic handle with a short distance between heating element and tip allows very fast heat up time and quick heat dispersion. The sensor and heat transfer technology employed ensures precise temperature regulation required for making consistent, reliable soldering connections. The temperature is maintained within +/-3°C.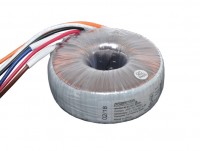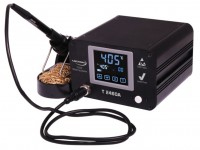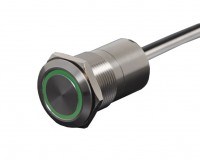 WAGO Stand B20
WAGO Series 221 for Ex-Applications
WAGO presents a new highlight – The 221 Series for Ex-Applications. The design is like the standard 221 connectors with all its benefits like transparent housing and the simple handling. The 221 for Ex-Applications are only approved in combination with the mounting adapters, because a fixation is required normatively.
• The combination of 221 connectors and the new fixing carrier enables the use of 21 series in Ex-Applications
• The fixing carrier was to designed to fulfill the Ex-requirements regarding clearance and creepage distances (440 V with / 275 V without), strong hold and fixation of the connectors
• There will be a 1 to 1 relationship between the special products and the special fixing carrier by a printing use only with 221-500 and 221-505 (if desired)
• Concept: 221 with light grey levers (different materials), Ex-marking on lever and light grey fixing carrier
• Easy handling due to wire connection by hand or in the fixing carrier, for all types of wires, easy inspection due to transparent housing
The Ex-Certificates are applied for and the connectors are available from stock at the end of 2018.
Splicing Connectors for All Types of Conductors: WAGO 221-412, WAGO 221-413 and WAGO 221-415
These electrical installation "superstars" allow solid, stranded and fine-stranded conductors to be connected faster and more reliably, while conserving precious junction box space. This is made possible not only by their compact design, but also by their transparent housing, easier handling and two test ports.
Due to their extremely small dimensions, WAGO's COMPACT Splicing Connectors are ideal for space-restricted applications. Installation is made much easier, while providing additional freedom for future expansions.
Another highlight: the transparent housing. Now, you can clearly see if the conductors are connected properly and stripped to the correct length. Furthermore, two easy-to-access test ports, one in the conductor entry direction and one opposite of this, provide extremely convenient testing conditions – even after installation.
• Up to 40% less space required than for the original WAGO 222
• Transparent housing for visual inspection shows that the conductor is inserted properly and stripped to the correct length
• Easy termination via reduced operating force
• Any combination of conductor types and sizes from 0.14 to 4 mm² (24–12 AWG) is possible
• Two test slots for all standard test probes
WAGO's new 221 Series COMPACT Splicing Connectors comes in 6 mm2
Easier, faster, safer: These three attributes characterize WAGO's 221 Series Splicing Connectors. WAGO's 221 Series now offers a model for conductors up to 6 mm2 (10 AWG). Previously, stranded or fine-stranded conductors up to 4 mm2 (12 AWG) were connected with WAGO's 221 Series Splicing Connectors.
As with other 221 Series models, installation with WAGO's new 6 mm2 splicing connectors is simple. Stripped conductors are pushed into the connector until they hit the backstop after opening the clamp with an orange lever. The conductor is securely connected after closing the lever, while the transparent housing enables visual inspection of the connection. OEMs benefit from the new connector that offers options for easy, fast and safe wiring of high-power lighting and signal systems, or HVAC systems within commercial buildings.
• Faster installation of devices with higher levels of power consumption
• Time-saving and safer installation of long cable runs with larger conductor cross-sections
• Creation of new applications for electrical appliance manufacturers
• Easy conductor termination up to 6 mm² (10 AWG)
• Safe wiring thanks to WAGO's spring pressure connection technology
• Time-saving for OEMs and building technicians
• New applications for WAGO's industry-proven splicing connector
The WAGO Group is an international, standard-setting supplier of electrical interconnection and automation products and interface electronics. The family-run company is the world market leader and inventor of spring pressure connection technology. WAGO has continued to grow since being founded in 1951, with a current worldwide workforce of around 8,000 globally and sales of EUR 862 million in 2017.
WAGO products are used globally in power and process technology, building automation, machinery and equipment, as well as industrial and transportation applications. They are trusted anywhere electrical conductors must be connected to each other or where complex automation systems must be controlled. Here they have continuously been proven to contribute to safety and the reliable operation of devices and complete installations.
Splicing Connector Sets up to 6 mm2
The 221 4 mm2 and 6 mm2 are now available in two different L-Boxx Mini sets. The sets include an assortment of WAGO's splicing connectors for different types of wires and a range of cross sections, including the 221 Series.
In the Sortimo L-BOXX® the splicing connectors always remain properly sorted, ready and waiting at the right place when you need them. This provides for space-saving and practical storage of both the splicing connectors and the case itself.
MORE POWER ON YOUR PCB
The trend toward electronic miniaturization requires that both power and signal levels be integrated on PCBs. This results in increased power density, requiring connection technologies and pluggable connectors suited for both compact and high-performance PCB terminal blocks.
Connection technology is also a basic criterion for selecting the right terminal block in demanding applications, such as power supplies, frequency inverters or servo drives. Additional decisive factors include simple and easy operation, as well as wiring flexibility.
Every Advantage – All in One
WAGO combines all these criteria into a comprehensive and varied range of PCB terminal blocks for power electronics. WAGO's PCB terminal blocks are rated for 4 mm², 6 mm² and 16 mm² conductor cross-sections and can be operated either with or without a tool.
Thanks to WAGO's innovative spring pressure connection technology, the WAGO PCB Terminal Blocks for all applications ideally blend ergonomics and safety. Push-in CAGE CLAMP® enables solid and ferruled conductors to be connected by simply pushing them into the unit, while guaranteeing secure and maintenance-free connections for all conductor types. Furthermore, our products are not only simple and easy to use, but also offer maximum wiring flexibility.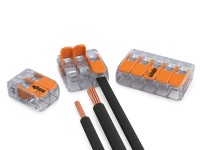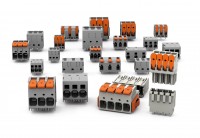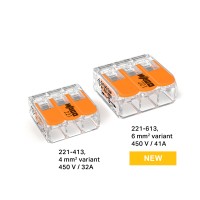 Ningbo Degson Electrical Stand C27
DEGSON is one of the leading manufacturers and hi-tech enterprises of electronic & electrical solution provider in industrial connection. Meanwhile, DEGSON's lab is the first one authorized by both UL VDE in Asia. The product is complied with UL,VDE,TUV,EXCE,CQC,CB,RoHS.,REACH certificate and the company has been granted ISO9001,ISO14001,ISO80079-34,IRIS management certificate.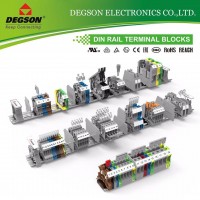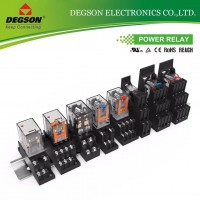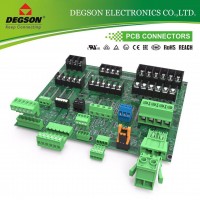 SCREEN PROCESS CIRCUITS Stand A7
POLYCARBONATE DECALS
Utilising a Polycarbonate Decal is an ideal and stylish way to add a professional appearance to your product directly. Here at Screen Process Circuits we screen print your desired logo, image or graphic on the subsurface of the polycarbonate, protecting your decal so that it is hardwearing and will last for years. To meet your requirements we can apply an adhesive entirely or partially, allowing for areas such as buttons, LED's, cut-outs and windows. We offer advice to help select the most suitable material, texture and thickness depending on your application. This will ensure your decal will withstand any heat, cold, UV and abrasive conditions which it may be subjected to. We offer embossing, colour matching, die-cutting, routing and laser cutting.

We custom make your decal to your exact specifications and have a fully equipped graphic/engineering design and artwork-creation facility. We can create artwork from your drawings or you can supply your own artwork. With a wide range of uses such as on instrument panels, instructions, machines, equipment and name plates, a polycarbonate decal is a tough, long lasting and cost effective choice. With over 30 years experience as screen printers you can rely on us to provide you with quality products, quick turnaround and exceptional service.
AMPEC TECHNOLOGIES Stand A10
Ampec Technologies is a supplier of passive electronic components including connectors, resistors, capacitors, joysticks and self-clinching fasteners. We are also a manufacturer of cable assemblies. Our factory is well equipped with fully automatic cut, strip and crimp machines with workers trained to IPC/WHMA-A-620 standard.
Besides quality management system endorsed to ISO9001, we are also UL listed for Wiring Harnesses - Component and Computer Interconnection Cable Assemblies.
• Box Assembly including Internal Wiring and Cable Looms
• Cable Assembly
• PCBA for low volume run or prototyping
• Metal Work
• Label Printing
• Testing and Packaging
Our customers are OEM's, electronic contract manufacturers, R&D design houses, contractors and end users. We are also serving the overseas operations of some Australian companies with manufacturing base in Singapore, Malaysia and China.

Cable Assembly & Box Build Assembly

Metal Work Label and Wire Marker CNC Engraving and Machining Functional Test and Logistic Service
At Ampec - we specialise in manufacturing of custom design cable assemblies as well as turnkey electronic and electric product assemblies.
SUCCESSFUL ENDEAVOURS Stand A3

Successful Endeavours develop smart electronics based products that are intended for profitable manufacture in Australia. These are typically higher value products performing sophisticated monitoring, communications or control functions or where unique features, size, power consumption, performance, battery life or cost effectiveness are the primary commercial drivers.

Successful Endeavours brings consulting class product development services to the SME sector at a price point that makes new commercial opportunities affordable to companies that would otherwise not be able to bring their idea to market. Over the past 20 years this has seen more than 2000 projects completed with the vast majority of the products developed being manufactured in Australia.

As an extension to the high technology R&D product development services, Successful Endeavours also offers turnkey manufacturing for the product developed where the end customer is not a local manufacturer or does not want to manage the manufacturing logistics chain. This allows products to be brought to market that would otherwise have gone to overseas manufacture or not been made at all.

Our market is Australian based electronics manufacturers and entrepreneurial small businesses that want to make a high quality product in Australia and want to be able to do that profitably.

Over the past 20 years Successful Endeavours has been involved in over 2000 projects.